About Our Team
AARON ISRAEL – CHEF & OWNER
Aaron Israel was raised in Great Neck, New York. He has worked under some of the most acclaimed chefs in New York City in numerous fine dining restaurants such as August, under chef Tony Liu, and A Voce, under chef Andrew Carmellini. He was the opening sous chef at Torrisi Italian Specialties for Rich Torrisi and Mario Carbone, helping them to develop and open the restaurant. As the chef of Mile End, he launched their acclaimed dinner program, after which he served as a food consultant in London. His work has been recognized by the James Beard foundation and such influential publications as the New York Times, Time Out New York, the Jewish Daily Forward, and the New York Observer.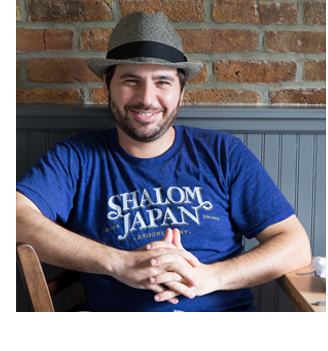 SAWAKO OKOCHI – CHEF & OWNER
Sawako Okochi has a vibrant culinary background rooted in her Japanese upbringing in Hiroshima. She moved from Japan to Texas in 1995. In 2000 she relocated to New York City to undertake the culinary program at the New York Restaurant School. Upon completing her internship at chef David Waltuck's, Chanterelle, she attained a job with chef Anita Lo at Annisa. She worked under Chef Lo for five years and rose to the title of sous chef. She spent five years as the chef at the Good Fork and went on to be the executive chef at Lani Kai. Throughout her career she has done numerous, well received and publicized supper clubs, most notably Otakara Supper Club. She was named by Mother Nature Network in their 40 under 40 rising star chefs.